Are you thinking of buying triple wall polycarbonate sheet for your greenhouse? Here are some things to consider before you make any decision. You will find a dozen of models that come in different size, features and options you need to choose.
From how long you are using the house ? What is the climate type?
You need to know this to determine the R-value (insulation) of polycarbonate that would cover your house. If you live in a cold climate, then buying single wall carbonate sheet or glass panel would not help. You need multi-layer polycarbonate such as triple wall polycarbonate panels to maintain inside temperature by creating insulation, and help you fight harsh weather.
 These sheets are just perfect to not only safeguard your residence from unpleasant weather, but also add beauty to it. Carbonate sheet comes in different size, pattern, color and style to give your home a makeover. Mostly, owner of greenhouses complain about the fragile nature of glass panel they installed. It mostly happens because glass panels used to be heavy, and can be broken down during installation or any other accident.
Even if you hire a highly experienced technician to avoid above-mentioned mishaps, glass panels sometimes fail to handle extremely harsh weather and get cracks. Unlike to glass panels, triple wall polycarbonate sheet is light weight and do not break down. You can install them alone without taking any professional help. No matter how harsh the weather is, your plant and other valuable will remain safe in your greenhouse if it is covered with multi-layered polycarbonate sheet.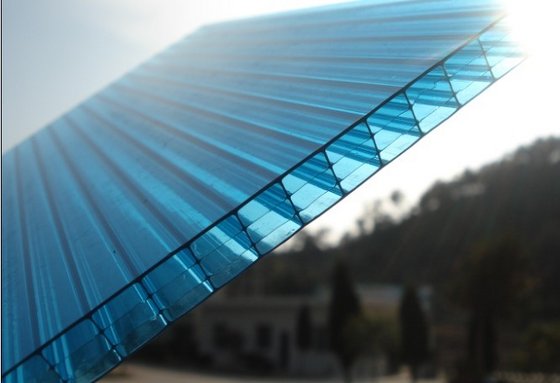 In an addition to weather protection, these sheets are terrific sound barrier. You can install them in your conference room door, office window, etc, and get absolute privacy. No sound will go out or enter your room via triple wall polycarbonate panels, and you will get absolute privacy.